Electrician Canterbury
Do you have a home or business in Canterbury? From minor maintenance to machinery upgrades, ITA Electrical can service all of your electrical needs.
ITA electricians place an emphasis open communication and reliability.
Safety and quality underpins our service guarantee, no matter what the job is.
All of our staff will treat you with professionalism, respect and courtesy.
To ask a question or to schedule an appointment with an expert electrician, get in touch with the ITA team by calling on 03 9761 8700.
Request an electrical quote
Why choose ITA
Most of our experienced Canterbury electricians have been with us for over a decade. They know how to produce great results with efficiency.
Free electrical assessment on all jobs

We don't charge for assessments on any electrical job. We are confident that you will be pleased with our our safe, reliable and quality work.

Free smoke detector battery

Enjoy a smoke detector battery, free of charge. Sit back and relax knowing that you are protecting the things that are important to you.

Lifetime labour warranty

We guarantee all of our work for life. This means that if there is an issue in the future, we will repair it for you, free of charge.

Certificate of Electrical Safety

All of our work is backed by a Certificate of Electrical Safety. This is a mandatory certificate for all electrical work completed by one of our certified electricians.
Call
03 9761 8700
for expertise from an electrician in Canterbury.
FAQs
Canterbury is an old, eastern suburb of Melbourne, which, thanks to its historic nature, often needs a range of electrical work. We have customers with a wide range of needs, and premises, including homes, shops, cafés, offices, and schools.

If you're looking for an electrician in Canterbury, then look no further than ITA Electrical. We've got all your electrical work in Canterbury covered, no matter the size of the job.

Being based in the east enables us to get to Canterbury promptly. However, our exact arrival time depends other factors such as day to day availability, and traffic conditions in Melbourne.

We usually offer same-day service, or the following day of your call. There is also the option to book a day and time that is convenient for you, in advance. Your electrician in Canterbury will call 30 minutes before arrival, to confirm the job.

The cost of an electrician in Canterbury varies, from job to job, depending on what is needed. Complex or large-scale work may necessitate the time of a senior electrician or needs more than one electrician on site. A simpler or smaller piece of electrical work might need only one electrician.

The scale and difficulty level of the job will influence pricing the most. Call us on 03 9761 8700 to get an exact quote for your job.

Our office is situated in the eastern suburbs, which makes it easy and convenient for our electricians to travel to Canterbury, or any other eastern suburb, as well as the Melbourne metro region.

If you need an electrician in Canterbury, or in other eastern or metro suburb, call ITA Electrical.

 

We offer a wide range of electrical work for your home in Canterbury. For example, one of the services we offer is the safe testing and tagging of office and home appliances for faults.

Older homes may need to be upgraded to a newer power infrastructure to support modern power needs.

We can also install devices for a smart home setup, for high-speed wifi, AV needs, as well as many other options.
About ITA Electrical
We have been conducting expert electrical work in Canterbury since 2005. We work on electrical jobs in homes, businesses, schools and industrial sites.
Our experienced Canterbury electricians can help with any electrical job, large or small. Our company has won numerous awards for our quality work.
Our team of electricians take pride in doing the best job possible, so that you can feel safe in your home or office.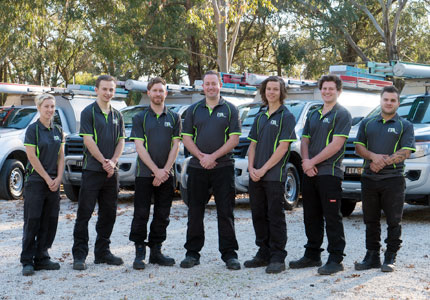 Electrician Accreditations