Electrician Surrey Hills
Do you have a home or business in Surrey Hills? From minor maintenance to machinery upgrades, ITA Electrical can service all of your electrical needs.
ITA electricians place an emphasis open communication and reliability.
Safety and quality underpins our service guarantee, no matter what the job is.
All of our staff will treat you with professionalism, respect and courtesy.
To ask a question or to schedule an appointment with an expert electrician, get in touch with the ITA team by calling on 03 9761 8700.
Request an electrical quote
Why choose ITA
Most of our experienced Surrey Hills electricians have been with us for over a decade. They know how to produce great results with efficiency.
Free electrical assessment on all jobs

We don't charge for assessments on any electrical job. We are confident that you will be pleased with our our safe, reliable and quality work.

Free smoke detector battery

Enjoy a smoke detector battery, free of charge. Sit back and relax knowing that you are protecting the things that are important to you.

Lifetime labour warranty

We guarantee all of our work for life. This means that if there is an issue in the future, we will repair it for you, free of charge.

Certificate of Electrical Safety

All of our work is backed by a Certificate of Electrical Safety. This is a mandatory certificate for all electrical work completed by one of our certified electricians.
FAQs
We get a fair share of electrical service requests for residential and commercial buildings in Surrey Hills.

It's not uncommon for our electricians in Surrey Hills to carry out three-phase power upgrades to help older homes support modern energy needs.

Our electricians have also carried out numerous testing and tagging services on offices. This service is essential for helping protect your equipment from power surges and electrical fires.

We're based in the eastern suburbs of Melbourne, so we're never too far away. We always assign the closest electrician to your address when you request a service.

In most cases, our electricians can arrive on the same day as your service request. If an ITA electrician can't arrive on the same day, an appointment can be booked for the following day.

Appointments can also be booked in advance for a time and date that suits your schedule.

The cost of your electrical service will depend on the size and complexity of the job. Our electricians in Surrey Hills understand how important it is to be transparent with quotes.

ITA electricians will always give you an accurate and detailed quote for their service. You will be notified of any potential changes in quote price.

It's not uncommon for our electricians in Surrey Hills to service nearby areas like Blackburn, Box Hill, and Camberwell.

ITA electricians can answer service calls for any suburb in the Melbourne metro area. So no matter where you are in Melbourne, ITA Electrical services are available to you.

Our electricians offer a wide range of electrical services for residential, commercial, and industrial buildings.

Our electricians in Surrey Hills carry out new phone line installations to boost the range and speed of wi-fi signals in homes.

It's not uncommon for our electricians to install intelligent lighting systems for offices to help reduce overheads and their environmental impact.
About ITA Electrical
We've been providing high-quality electrical services to Melbourne suburbs since 2005. Our electricians in Surrey Hills have completed services on various local homes, offices, and shops.
We've become industry leaders thanks to our commitment to quality and customer service, and we've got the awards to prove it. Most of our staff have been with us from the very beginning. It just goes to show how passionate they are about their jobs and the company they represent.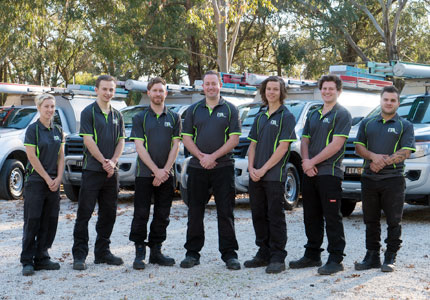 Electrician Accreditations