Electrician Ringwood
Do you have a home or business in Ringwood? From minor maintenance to machinery upgrades, ITA Electrical can service all of your electrical needs.
ITA electricians place an emphasis open communication and reliability.
Safety and quality underpins our service guarantee, no matter what the job is.
All of our staff will treat you with professionalism, respect and courtesy.
To ask a question or to schedule an appointment with an expert electrician, get in touch with the ITA team by calling on 03 9761 8700.
Request an electrical quote
Why choose ITA
Most of our experienced Ringwood electricians have been with us for over a decade. They know how to produce great results with efficiency.
Free electrical assessment on all jobs

We don't charge for assessments on any electrical job. We are confident that you will be pleased with our our safe, reliable and quality work.

Free smoke detector battery

Enjoy a smoke detector battery, free of charge. Sit back and relax knowing that you are protecting the things that are important to you.

Lifetime labour warranty

We guarantee all of our work for life. This means that if there is an issue in the future, we will repair it for you, free of charge.

Certificate of Electrical Safety

All of our work is backed by a Certificate of Electrical Safety. This is a mandatory certificate for all electrical work completed by one of our certified electricians.
FAQs
We can usually complete jobs Ringwood on the same day you call us or the next day. However, We can't always guarantee same day service as our availability is variable.

We are happy to work around your availability and schedule your job at your earliest convenience.

Our team travels throughout the greater Eastern suburbs and metropolitan Melbourne, as well as Ringwood.

No matter where your home or business is in Melbourne, we can provide you with top-notch electrical services.

The cost of your job will depend on how large and complex it is. More complex jobs sometimes require multiple or more senior electricians which will increase the cost.

If your job is fairly simple, it may only require one electrician. Whatever the case, we can provide you with a quote so that you know what to expect.

Ringwood has a mix of residential, commercial, and industry premises, so it's common to get a bit of everything.

Because many of the homes in Ringwood are from the middle of last century, many people need to have their power upgraded to meet the demands of modern living.

Yes. Many of our clients find that their homes built several decades ago do need to be upgraded to meet their electricity needs.

Whether you need to have more power points installed, need to have your switchboard upgraded, or wiring replaced, we can help.

There are many things we can do around the home for you, as well as our regular electrician services.

We can install lighting and lighting controls, new line installations for phone and internet, install and set up AV equipment and more.
About ITA Electricians
Founded in 2005, ITA Electricians have earned their reputation for reliable energy management and general electrical workmanship.
Our multi-award winning electricians in Melbourne can complete a wide range of electrical services. It means our customers can relax in the knowledge they're dealing with an industry leader.
And most of our professional electricians have been with us since the start. So they're genuinely dedicated to doing a great job.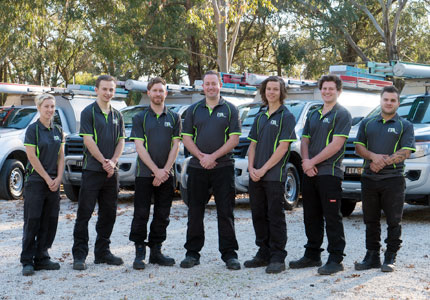 Electrician Accreditations