Electrician Wantirna
Whether you have a home, shop, office or industrial premises in Wantirna, ITA Electrical can service all of your electrical needs, from minor maintenance right up to complete rewiring.
ITA electricians pride themselves on their reliability and their open communication with our customers.
No matter how big or small the job, safety and quality will always underpin our service guarantee.
We guarantee that our professional staff will always treat you with respect and courtesy.
To ask us a question or to schedule an appointment with one of ITA's expert electricians, get in touch with us on 03 9761 8700.
Request an electrical quote
Why choose ITA
Most of our experienced Wantirna electricians have been with us for over a decade. We are award-winning experts who always deliver great results.
Free electrical assessment on all jobs

We don't charge for assessments on any electrical job. We are confident that you will be pleased with our our safe, reliable and quality work.

Free smoke detector battery

Enjoy a smoke detector battery, free of charge. Sit back and relax knowing that you are protecting the things that are important to you.

Lifetime labour warranty

We guarantee all of our work for life. This means that if there is an issue in the future, we will repair it for you, free of charge.

Certificate of Electrical Safety

All of our work is backed by a Certificate of Electrical Safety. This is a mandatory certificate for all electrical work completed by one of our certified electricians.
FAQs
Wantirna is a diverse suburb with many businesses and home owners who request a wide range of electrical work. Our electricians do a wide range of jobs in Wantirna, from fixing minor electrical faults, to installing new lines for lighting or rewiring buildings.

So no matter what type of electrical work you need done in Wantirna, ITA Electrical can assist.

We are based in the eastern suburbs of Melbourne, so we are never far from Wantirna. However we service the greater Melbourne area, so our availability can vary from day to day.

In most cases our electricians will be able to respond on the same day you call us. If not, we will endeavour to reach you the next day.

If you schedule your electrical job in advance at a time that suits you, we will call you 30 minutes prior to the agreed appointment to let you know we're on our way.

The cost of electrical work in Wantirna can vary depending on factors such as the size of the job, and complexity of the work required. For example a big job may require more than one electrician, while a smaller and simpler job would only require one electrician to attend.

For a detailed quote or a price range for any electrical job, call us on 03 9761 8700.


ITA Electrical service most areas across metropolitan Melbourne. So whether you need an electrician in Wantirna, the surrounding suburbs or anywhere else in the greater Melbourne area, we can help.

We offer a wide range of services for residential, commercial and industrial customers in Melbourne.

We can test and tag all your electrical appliances to ensure your workplace complies with safety requirements.

We rewire older homes and business premises.  We can install a modern switchboard to help support all your building's power needs safely.

In the home or the office, we can help with the professional installation and set-up of high-speed Wi-Fi networks, AV equipment and more.

We are experts in the installation of smart home devices for complete home automation, and we work with homeowners, architects and builders to deliver customised solutions.
About ITA Electrical
We have proudly provided professional electrical services to Wantirna homes and businesses for over a decade.
We are award-winning industry leaders. Our team can handle any kind of electrical work you may need help with.
We're committed to always doing a professional job, so you can rest assured that you're in safe hands with ITA Electrical.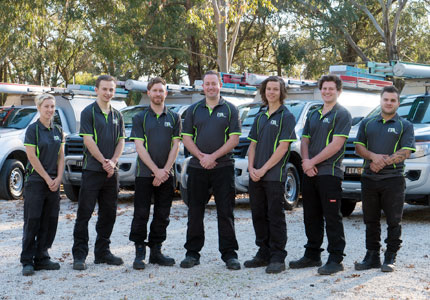 Electrician Accreditations