Electrician Warrandyte
Looking for home or business electrical services in Warrandyte? From minor jobs through to major projects, ITA Electrical is here to help.
We're committed to reliable communication on every job, no matter how big or small.
Safety and quality are critical to every job we complete.
Every ITA Electrical team member works with professionalism, respect, and courtesy.
To schedule an appointment with our electricians in Warrandyte, call the ITA team today on 03 9761 8700.
Get your electrical quote
Why choose ITA
Many of our ITA electricians in Warrandyte have been with the team for over ten years. We know how to get great results for our customers.
Free electrical assessment on all jobs

We don't charge for assessments on any electrical job. We are confident that you will be pleased with our our safe, reliable and quality work.

Free smoke detector battery

Enjoy a smoke detector battery, free of charge. Sit back and relax knowing that you are protecting the things that are important to you.

Lifetime labour warranty

We guarantee all of our work for life. This means that if there is an issue in the future, we will repair it for you, free of charge.

Certificate of Electrical Safety

All of our work is backed by a Certificate of Electrical Safety. This is a mandatory certificate for all electrical work completed by one of our certified electricians.
FAQs
ITA Electrical is based in the eastern suburbs of Melbourne so we are not far from your home in Warrandyte. Our team attend to calls across Melbourne, and the arrival time of an electrician to your home will depend on availability. That said, we'll try to get someone out to your home on the same day you call, and if we can't do that, we'll get someone out to you the next day. 

Want to schedule a job in advance? You can call us and arrange a time and day that suits you. Our team will call you 30 minutes prior to the scheduled time to make sure you are home.

Every job attracts a different price depending on the details of the service. If the job is large and complex, you'll find this attracts a higher price. It's best to call us on 03 9761 8700 to get an accurate quote for your electrical job.

At ITA Electrical, we are proud to support our residential and commercial clients. We provide commercial electrical services and can provide you with a comprehensive quote via a site assessment or over the phone. 

We provide a range of home electrical services in Warrandyte, whether you have a small job that needs taking care of, or have a large job that needs doing.

For example, we can perform a complete re-wire of your older house to keep your family safe, and we can install new switchboards to upgrade your modern power needs.

Our team is experienced in testing and tagging, and we have recently started working with architects and builders in installing smart home devices. Add to this our capacity to help with wifi and AV equipment, and you have a full service team who are ready to help with whatever job you have for us.

We are based in eastern Melbourne and can come to most suburbs in the metropolitan area. If you need an electrician in Warrandyte or any other suburb in Melbourne, ITA Electrical are here for you.
About ITA Electrical
We have worked with residential and commercial customers in Warrandyte since 2005, providing homeowners, businesses, and industrial clients with electrical services.
Our award-winning, industry-leading team is committed to doing any kind of electrical work you need help with. We put your safety first, and always ensure we provide high-quality electrical services. You can trust us.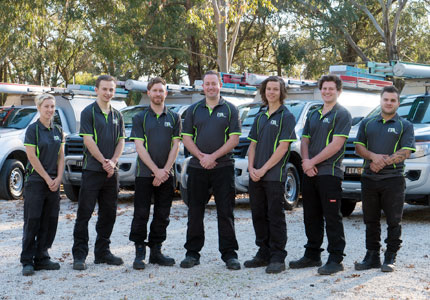 Electrician Accreditations