Aged Care and Medical Centre Electricians
Energise your business
Every great business begins with a spark. Let us help you turn that idea into something special. ITA's commercial electricians are trained professionals at helping your business grow with power.
From intelligent lighting to three-phase electrical upgrades, we respond quickly and efficiently.
Schools, offices, factories and warehouses - our expertise can improve any workplace.
Our long lasting solutions are applied efficiently, requiring minimal downtime.
With our emphasis on reliability, quality and safety, you can get back to running your business.
To talk to us about what we can do for your business, call ITA on 03 9761 8700.
Request an electrical quote
Reliable electricians for medical centres and aged care
ITA's skilled electricians have served Melbourne's medical centres and aged care facilities since 2005.
Since then, we've provided expertise in general power, lighting, data works and more to countless doctors' practices, nursing homes, chiropractors and physiotherapy practices.
Why do they trust ITA? It's not just our high quality workmanship. Or our impeccable safety record. It's because most of our electricians have been with ITA since the start. So they genuinely care about doing a great job. They'll look after your power needs - so you can focus on looking after your patients.
Just ask our satisfied customers - like Bond Street Specialist Centre, Superspine, Yarra Valley Psychology, Serpells Road Medical Centre.
ITA electrical services for medical and aged care facilities
General power

For over a decade, ITA has provided electrical faults and general service work to medical and aged care facilities. Call

03 9761 8700

for everyday electrical services - like repairs, service and power point installation.

Testing and tagging

Regular load testing of equipment and appliances ensures protection from surges and fire. So schedule a test and tag appointment with a qualified ITA professional today.

Three-phase power

Got medical equipment with substantial power demands? ITA can help. Our experts can upgrade your supply to three-phase power - helping your facility meet its increasing energy needs.

Intelligent lighting

Save on power costs and reduce your building's environmental impact. ITA's lighting experts can install intelligent lighting in any medical or aged care centre.

Security and safety

Ensure your patients are safe at all times. Call

03 9761 8700

for testing, scheduled maintenance and repairs on CCTV systems, alarms, emergency and exit lights and secure entrances.

Data works, cabling and networking

Upgrade your computer network. Boost your internet capabilities. We can install everything you need to get up to speed - from data ports to Smart TVs.

Lighting

LEDs. Down lights. Fluorescent tubing. We're experts in all of them. Our qualified lighting specialists will ensure a well-lit, safe environment for residents/patients and healthcare workers alike.

Energy management

ITA offers energy management to help your medical facility dramatically reduce its energy consumption. Call

03 9761 8700

and start seeing the improvements in your bottom line.

TV points

Ready for multi-room TV distribution? Our experts can advise on - and install - TV points in the best positions possible.
"ITA are so easy to deal with from the first stage of booking in a job to completion. Our office is ever growing and they are our go to company that provides all our electrical needs. The staff are so friendly and they work very efficiently and clean up after every job. We have never had to complain about the work that has been carried out and would recommend them to anyone looking for a professional service."
Bond Street Specialist Centre
About ITA Electricians
Founded in 2005, ITA Electricians have earned their reputation for reliable energy management and general electrical workmanship.
Our multi-award winning electricians in Melbourne can complete a wide range of electrical services. It means our customers can relax in the knowledge they're dealing with an industry leader.
And most of our professional electricians have been with us since the start. So they're genuinely dedicated to doing a great job.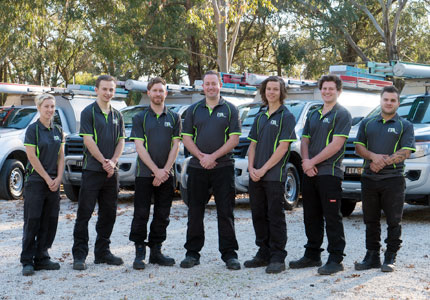 Why choose ITA
We have been in business with businesses for over a decade. We know what it takes to run a commercial enterprise, and we know how energy needs change with exciting new developments
Free electrical assessment on all jobs

Running a business can be expensive. You shouldn't have to pay before the work gets underway. Enjoy a free electrical assessment for any job you book with us.

Lifetime labour warranty

Our lifetime guarantee stands alongside your business. If there's a problems with our work, we will come back and repair it immediately, at no extra cost to you.

Certificate of Electrical Safety

Every commercial or industrial job completed by an electrician requires a Certificate of Electrical Safety. With this certificate, you can relax and know that your assets are protected.

Compliance checking

Exit signs and other electrical systems are imperative for the safety of yourself and your employees. We can get you up to date with current safety laws.
Electrician Accreditations