Electricians for Hospitality
Energise your business
Every great business begins with a spark. Let us help you turn that idea into something special. ITA's commercial electricians are trained professionals at helping your business grow with power.
From intelligent lighting to three-phase electrical upgrades, we respond quickly and efficiently.
Schools, offices, factories and warehouses - our expertise can improve any workplace.
Our long lasting solutions are applied efficiently, requiring minimal downtime.
With our emphasis on reliability, quality and safety, you can get back to running your business.
To talk to us about what we can do for your business, call ITA on 03 9761 8700.
Request an electrical quote
Electricians for restaurants, cafes and pubs
Since 2005, Melbourne's hospitality industry has turned to ITA for general power fixes, outlet installation and three-phase upgrades. Why? It's not just our high quality workmanship. Or our impeccable safety record. 
It's because our electricians genuinely care about doing a great job. Because most of them have been with ITA since the start. That's why they'll ensure your establishment's power needs are fully catered for.
ITA electrical services for restaurants, cafes and pubs
General power

ITA can respond to your establishment's everyday electrical needs - quickly. That includes power point installation and power upgrades for new coffee machines, fridges and other appliances. Call

03 9761 8700

for everyday electrical needs.

Testing and tagging

Ensure bar and kitchen appliances are protected against surges and fire. Schedule a test and tag appointment with a qualified ITA professional today.

Three-phase power

Is your establishment running at capacity? ITA's experts can upgrade your supply to three-phase power - allowing installation of appliances with high power demands.

Design and consultation and assistance

Opening a new location? ITA can help you with lighting, power point, data point and switchboard requirements based on your floor plans - helping you save on power costs and reduce your building's environmental impact.

Security and safety

Keep your establishment well-protected. Call

03 9761 8700

for testing, scheduled maintenance and repairs on CCTV systems, alarms, emergency and exit lights and secure entrances.

Data works, cabling and networking

ITA can help ensure your guests are always connected. We're experts in network upgrades and boosting wireless signal reach and strength. Plus we can install additional data ports and accessories like Smart TVs.

Lighting

The right atmosphere requires the right lighting. And we're experts in lighting installation, service and repair. We'll make sure your customers always see your business in the best light.

Energy management

Our energy management expertise will help you reduce overheads - as well as your environmental footprint.

LED strip and feature lighting

Need feature lighting installed, serviced or repaired? Our expertise covers LEDs, downlights, fluorescent strip lighting and more.
"ITA took the time to understand our needs, attended site with our builder to review floor plans and our requirements. The planning was exceptional and the electricians carried out the works in a timely manner with a professional approach. Our timelines were always met and I had faith that Andrew and the team would deliver on time. ITA gives me peace of mind with great continuous ongoing support and service in that if we need anything, they are only a phone call away. Thanks to the team at ITA!"
Andrew Wings
About ITA Electricians
Founded in 2005, ITA Electricians have earned their reputation for reliable energy management and general electrical workmanship.
Our multi-award winning electricians in Melbourne can complete a wide range of electrical services. It means our customers can relax in the knowledge they're dealing with an industry leader.
And most of our professional electricians have been with us since the start. So they're genuinely dedicated to doing a great job.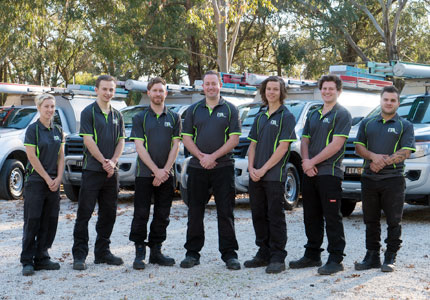 Why choose ITA
We have been in business with businesses for over a decade. We know what it takes to run a commercial enterprise, and we know how energy needs change with exciting new developments
Free electrical assessment on all jobs

Running a business can be expensive. You shouldn't have to pay before the work gets underway. Enjoy a free electrical assessment for any job you book with us.

Lifetime labour warranty

Our lifetime guarantee stands alongside your business. If there's a problems with our work, we will come back and repair it immediately, at no extra cost to you.

Certificate of Electrical Safety

Every commercial or industrial job completed by an electrician requires a Certificate of Electrical Safety. With this certificate, you can relax and know that your assets are protected.

Compliance checking

Exit signs and other electrical systems are imperative for the safety of yourself and your employees. We can get you up to date with current safety laws.
Electrician Accreditations