Electricians for offices and body corporates
Moving office? Or just need a new powerpoint installed? Whatever your office's electrical needs, ITA can help. That's because we've served offices and corporate workspaces across Melbourne's south east and CBD for more than a decade.
And most of our corporate electricians have been with ITA since we started out in 2005. It's why they care about always doing a great job. It's why they'll ensure electrical faults are fixed first time. And it's why you'll benefit from peace-of-mind - because that only comes from choosing knowledgable, highly-qualified workmanship.
ITA electrical services for offices
General power

Any power fault, fixed first time. That's our promise to you. Choosing ITA means choosing a long-term fix for your office's power problems.

Testing and tagging

Protect computers and office equipment from power surges and electrical fires. Call ITA on

03 9761 8700

to arrange one-off or regular scheduled testing and tagging.

Three-phase power

Need more juice for your office server upgrade? ITA's experts can upgrade your supply to three-phase power - helping your office meet its increasing energy needs.

Intelligent lighting

Save money by not having to light unoccupied office space. Our intelligent lighting experts can help reduce your overheads and minimise your environmental impact.

Security and safety

We know you put your employees' safety first. So we do too. ITA can provide thorough testing, scheduled maintenance and repairs on CCTV, alarms, emergency lighting and secure entrances.

Data works, cabling and networking

Bring your office up to speed. Book an ITA data specialist and they can take care of your data needs - including network upgrades, fast Wi-Fi, wireless access points and Smart TV installation.

Lighting

We're well versed in office OH&S lighting requirements. Our qualified lighting specialists will ensure a well-lit, safe environment for employees and visitors alike.

Energy management

ITA offers energy management to help your office reduce energy consumption. Call

03 9761 8700

and start seeing the financial benefits today.

Wi-Fi distribution

Wi-Fi signal need a boost? ITA can ensure your internet signal reaches every corner of your office.
"ITA are so easy to deal with from the first stage of booking in a job to completion. Our office is ever growing and they are our go to company that provides all our electrical needs. The staff are so friendly and they work very efficiently and clean up after every job. We have never had to complain about the work that has been carried out and would recommend them to anyone looking for a professional service."
Steelvision
About ITA Electricians
Founded in 2005, ITA Electricians have earned their reputation for reliable energy management and general electrical workmanship.
Our multi-award winning electricians in Melbourne can complete a wide range of electrical services. It means our customers can relax in the knowledge they're dealing with an industry leader.
And most of our professional electricians have been with us since the start. So they're genuinely dedicated to doing a great job.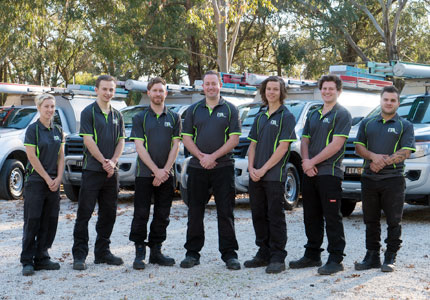 Why choose an ITA Electrician?
Reliability. It's central to everything we do.
Our electricians always do the job properly first time. That's thanks to our highly-qualified professionals' unrivalled, reliable workmanship. They're all fully-licensed A-grade electricians and we also have staff with speciality training in security systems and lighting.
Most of our electricians in Melbourne have been with ITA since the very start. That's why doing a great job is so important to them. It's why they're happy to arrange an appointment that suits your schedule. And it's why they'll show up for it on time. They'll call you 30 mins beforehand to confirm their on-time arrival too.
Electrician Accreditations