Expert retail electricians for shopping centres
Why do shopping centres turn to ITA for their electrical needs? It's not just our high quality workmanship. Or our impeccable safety record. It's because our skilled retail electricians genuinely care about doing a great job. Because most of them have been with ITA since the start.
So have Mt Evelyn IGA. They've been our client since 2005. And since then, we've helped them with major power and generator upgrades - as well as car park lighting floodlight upgrades. It's the same story at countless retail centres across Melbourne's CBD and south east.
Electrical services for retail and shopping centres
General power

Electrical fault? ITA can fix your centre's everyday electrical problems - quickly. Call

03 9761 8700

for general repairs and service.

Three-phase power

When your power needs start to exceed supply, ITA can help. Our highly-qualified electricians can upgrade your power supply to three-phase format - helping your retail centre meet its increasing power needs.

Design and consultation and assistance

Considering a centre refurbishment? ITA can help you develop lighting layouts as part of your floor plans - helping you save on power costs and reduce your building's environmental impact.

Security and safety

A safe, secure environment. For patrons and staff alike. That's the benefit of ITA's security system testing, maintenance and repair service. We'll ensure your CCTV, alarms, emergency lights and secure entrances are up to standard.

Data works, cabling and networking

Upgrade your computer network. Boost your centre's internet capabilities. We can install everything you need to get up to speed - from data ports to Smart TVs.

Lighting

Atmospheric down lights. Functional strip lighting. Whatever type of lighting you need, our experienced specialists are experts in installation, service and repair. They'll help you ensure a comfortable and safe environment for your centre's shoppers.

Energy management

Ready to save on energy bills? ITA will work with you to devise an energy management plan - helping reduce your overheads and environmental footprint.

Fault finding

ITA's experts have the experience to quickly and effectively detect, remedy and repair electrical faults.

Access control

Ensure total security with ITA's access control services. Our expertise in intercoms and secure entrances ensures you always have control over access.
"For over ten years now IGA Mt.Evelyn has only used ITA, 24 hours a day 7 days a week and has never been let down with all our electrical maintenance needs. From emergency lighting testing to major switch board relocation. Everything done with minimal disruption to my customers and consistently prompt response times. I have no hesitation in giving my highest recommendation of ITA."
Tony Ingpen, Mt Evelyn IGA
About ITA Electricians
Founded in 2005, ITA Electricians have earned their reputation for reliable energy management and general electrical workmanship.
Our multi-award winning electricians in Melbourne can complete a wide range of electrical services. It means our customers can relax in the knowledge they're dealing with an industry leader.
And most of our professional electricians have been with us since the start. So they're genuinely dedicated to doing a great job.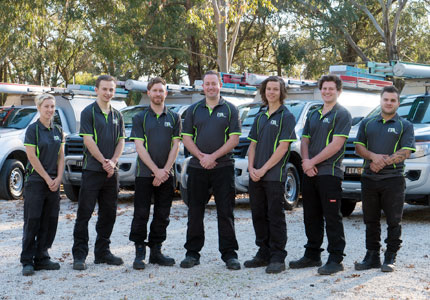 Why choose an ITA Electrician?
Reliability. It's central to everything we do.
Our electricians always do the job properly first time. That's thanks to our highly-qualified professionals' unrivalled, reliable workmanship. They're all fully-licensed A-grade electricians and we also have staff with speciality training in security systems and lighting.
Most of our electricians in Melbourne have been with ITA since the very start. That's why doing a great job is so important to them. It's why they're happy to arrange an appointment that suits your schedule. And it's why they'll show up for it on time. They'll call you 30 mins beforehand to confirm their on-time arrival too.
Electrician Accreditations