Electricians for factories and warehouses
Whatever your factory or warehouse's electrical needs, ITA can help. That's because we've serviced factories and warehouses across Melbourne's south east and CBD since 2005. And that's all down to our experienced electricians. They genuinely care about doing a great job.
Because most of them have been with ITA from the start. It's why they'll ensure electrical faults are fixed first time. And it's why you'll benefit from peace-of-mind - because that only comes from choosing ITA's knowledgable, highly-qualified workmanship.
ITA electrical services for factories and warehouses
Faults and general electrical

Power fault? Call

03 9761 8700

to get your operation back up and running. With quick response times across Melbourne, choosing ITA's highly-qualified electricians means minimising costly down-time. We also provide powerpoint installation and a full range of everyday power services.

Testing and tagging

Protect machinery, industrial equipment and appliances against surges and fire. Call

03 9761 8700

to schedule a test and tag appointment with a qualified ITA professional.

Safety

Thanks to decades of experience with industrial OH&S requirements, ITA has your electrical safety needs covered. From emergency and exit lighting to alarm systems, testing, service and repairs - ITA ensure a safe work environment.

Lighting

ITA's specialists will ensure your lighting is up to industry standards. Whether it's servicing existing lights or installing new units, we'll ensure your lighting is cost-efficient while meeting OH&S requirements.

Security, access control and CCTV

Keep your industrial premises secure. Call

03 9761 8700

for testing, scheduled maintenance and repairs on CCTV systems, alarms and secure entrances.

Energy management

Factories and warehouses have high energy demands. Reducing them can mean huge savings on overheads. ITA's energy management expertise will help you reduce electricity bills - as well as your environmental impact.

Plant and machinery relocations

ITA are experts in disconnecting, reconnecting and commissioning industrial equipment. So if you need to relocate machinery, we'll do it safely and carefully - ensuring your equipment is back on-line quickly.

Power upgrades

Got new machinery that requires a power upgrade? ITA can provide effective power upgrades (including single/three-phase) - allowing installation of equipment with high power demands.

Emergency and exit lighting

Ensure your premises fully complies with safety laws. ITA can advise on emergency and exit lighting - as well as install and maintain them to ensure ongoing safety.
"We have contracted ITA on numerous electrical projects over the last 4-5years. From power upgrades to emergency lighting checks, Andrew and the team from ITA have always been professional, prompt and diligent in all of their work. They treat emergencies with the speed we require in our business and are always pleasant, easy going and reliable; nothing is too much trouble. We would recommend them to anyone requiring top quality electrical work."
Label Line, Bayswater
About ITA Electricians
Founded in 2005, ITA Electricians have earned their reputation for reliable energy management and general electrical workmanship.
Our multi-award winning electricians in Melbourne can complete a wide range of electrical services. It means our customers can relax in the knowledge they're dealing with an industry leader.
And most of our professional electricians have been with us since the start. So they're genuinely dedicated to doing a great job.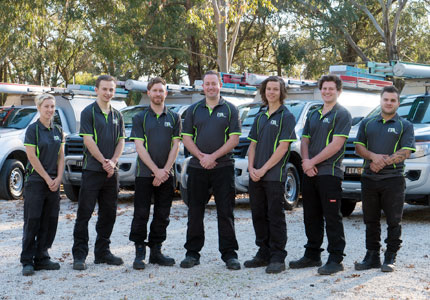 Why choose an ITA Electrician?
Reliability. It's central to everything we do.
Our electricians always do the job properly first time. That's thanks to our highly-qualified professionals' unrivalled, reliable workmanship. They're all fully-licensed A-grade electricians and we also have staff with speciality training in security systems and lighting.
Most of our electricians in Melbourne have been with ITA since the very start. That's why doing a great job is so important to them. It's why they're happy to arrange an appointment that suits your schedule. And it's why they'll show up for it on time. They'll call you 30 mins beforehand to confirm their on-time arrival too.
Electrician Accreditations