Office lighting standards and best practices
When fitting out a new office there are certain levels of occupational and safety standards which must be met for compliance with legislation. For example, furniture and workspaces must be ergonomic and safe. There are also office lighting standards which need to be met to ensure that personnel can work and engage with the office space in a safe way. 
Workplace lighting regulations exist which govern workplace conditions, and the standard required in the regulations is one of safety, where employees can work without risks to health.
There is further guidance contained within the Workplace amenities and work environment compliance code which sets out what type of lighting must be provided, and what needs to be considered when installing lighting. 
This is a short guide for anyone who is fitting out a new office and who wants to ensure that they meet the office lighting standards while adhering to minimum lighting levels in the workplace. 
General office lighting standards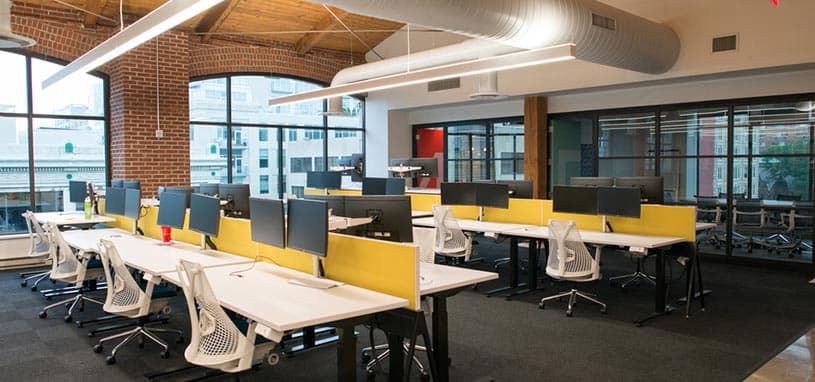 Lighting in an office needs to be sufficient to allow people to see their work clearly and perform their tasks safely. When designing and installing lighting for any area of your office you need to consider:
The amount of light that exists and that is needed for that space
The light sources that you will install
The position and strength of the light sources
What types of tasks and activities will be performed in that space
At a minimum the lighting in your office needs to allow people to see what they are doing and engage with their work without needing to strain.
Specific lighting standards
There are different office lighting standards depending on the complexity of the task being completed. For example: 
Having lunch in the break room does not require a great amount of fine attention to detail and so the standard of lighting will not be as precise.
Checking an architectural drawing for errors requires a great deal of concentration and attention, which means that a high standard of lighting is needed. 
When measuring light, special devices known as lux meters are used. Lux meters capture the amount of light falling onto a surface. The recommended light for certain areas is shown in the following table.
| | | | |
| --- | --- | --- | --- |
| Class of task | Recommended maintenance illumination (LUX) | Characteristics of the activity and the interior  | Examples of activities and interiors |
| Occasional use | 80 | Interior spaces which are used intermittently and where tasks are limited to movement and orientation | Staff changing room |
| Simple | 160 | Occasional reading of printed material for a short time | Waiting room |
| Ordinary tasks | 240 | Continuously-used areas where moderately easy tasks with high contrast are performed | General computer use |
| Moderately difficult | 400 | Areas where visual tasks are moderately difficult with low contrast | Routine office work spaces |
| Difficult | 600 | Areas where visual tasks are difficult with low contrast | Proof reading and drawing boards |
Table adapted from AS 1680 – Interior Lighting
When considering light it is not sufficient to merely consider the illumination; care must be given to the evenness of the light, the quality of the light, the type of light fittings and the direction of lights.
ITA Electrical professionals understand these elements and can assist in the design and installation of office lighting to suit every type of industry and use. 
Specific lighting standards for access and emergency safety
Access office lighting standards
Access and stair lighting is necessary to ensure workers can move around the office space safely and without risk from hazards. There are minimum lighting standards required for access areas which must be met to ensure compliance with legislation and industry requirements. 
Emergency lighting standards
Emergency lighting allows workers to exit a space safely in the event of an incident which requires evacuation. Your office must have sufficient battery powered lighting in stairways, passages, and next to switchboards. You must also have internally illuminated emergency signing which can provide safe directions in the event of a power failure and emergency situation. 
How to design office lighting
When designing office lighting you must consider the general, specific and access and emergency standards. Plus, in addition to these core standards, your office lighting must be installed so as to alleviate potential hazards including:
Glare
Reflections from a work surface such as a shiny desk, or a computer monitor
Shadows
Flickering
Colour
Visual fatigue
Designing a workspace which meets the minimum lighting levels in the workplace requires care, skill, and attention to detail. It is worth considering what type of work is going to be done in your workspace and plan your lighting installation accordingly. 
Meet your workplace lighting regulations with ITA Electrical
When you need lighting you can rely on for the safety and wellbeing of your team, trust ITA Electrical for all of your office lighting needs. We provide office lighting and design for businesses and office spaces across Melbourne, no matter how big or small the job is. Make sure your office meets the office lighting standards and choose ITA Electrical, your quality electrical installation provider.
Find out why we are a trusted name in Melbourne office lighting and electrical installation and get your electrical quote today. 
Must Read
ITA Electrical on 23 January 2017
Choosing a set price electrician gives you the comfort of knowing exactly how much your job will cost, without any unexpected surprises ...
Read more
ITA Electrical on 26 September 2016
'Cheap' electricians aren't always so cheap in the long term. Go for great value instead ...
Read more