Searching for a cheap electrician? Read this first.
'Cheap' repairs can be more likely to fail
Poor electrical workmanship can be dangerous
The cheapest electricians can be more expensive in the long term
Work carried out by a cheap electrician can be inefficient, dangerous, and ultimately more expensive.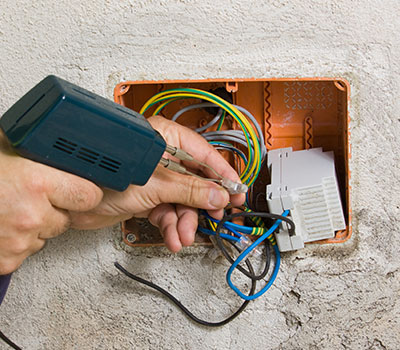 At ITA Electrical, we've seen first hand the damage which the cheapest electricians can do. Poor workmanship, inferior products, dodgy wiring. We've seen it all. Because we're often the ones that homeowners call to solve the problems caused by other low-cost and low-quality repairs.
Unfortunately, by the time people contact us, it's regularly too late for them to recover the costs incurred due to their previous cheap electrician. And, this can leave homeowners substantially out of pocket.
The best solution is to get the job done right the first time. Not with a cheap electrician, but with a quality electrician, who provides good value for money. Speak to one of our ITA Electricians to learn more. 
The cost of repairing the repairs
In order to provide cheap repairs, a cheap electrician may cut corners, skip checks and balances, and substitute trusted components for alternatives of dubious quality.
The result of this is that cheap repairs can be more likely to fail, leaving you with malfunctioning electrical equipment, or worse, without power altogether.
It's at this point that people have to contact a second electrician to get the job done properly. Repairing the poor repairs carried out by the cheapest electricians can be time-consuming, expensive, and inconveniencing for you.
Cheap repairs can be dangerous
The cheapest electricians can provide non-compliant repairs, or repairs that do not adhere to Australian standards surrounding the safe installation of electrical equipment. The result of this can be very serious.
Risks of poor electrical repairs include:
Electrocution due to exposed wiring
Potential fire hazards
Falls associated with shocks
In Australia, all electricians are required to present a certificate of electrical safety upon request. If your cheap electrician cannot provide you with one, then your choice is simple. Don't hire them.
Cover yourself with a warranty
Your electrician's workmanship warranty covers you in the event that your repairs or installation malfunctions, or does not operate as it should.
So, as with the certificate of electrical safety, before you hire a cheap electrician make sure you ask what is their warranty. If they cannot provide you with an answer, don't hire them.
At ITA Electrical, unlike many of the cheapest electricians, we back all our work with a 2 year workmanship warranty. In the unlikely event that something does go wrong, we'll fix the problem fast, and with no additional charge to you.
"The cheapest electricians can be more expensive in the long term."
Call ITA Electrical first
At ITA Electrical, we've been servicing Melbourne residents for all their electrical needs for over 10 years. We provide professional and reliable service, with all of our work backed by our 2 year warranty.
Unlike some of the cheapest electricians, we don't comprise the safety of customers' properties with cheap or slapdash installations. We ensure all work is carried out properly, first time, every time. We're your local and trusted electricians.
Must Read
ITA Electrical on 23 January 2017
Choosing a set price electrician gives you the comfort of knowing exactly how much your job will cost, without any unexpected surprises ...
Read more
ITA Electrical on 26 September 2016
'Cheap' electricians aren't always so cheap in the long term. Go for great value instead ...
Read more